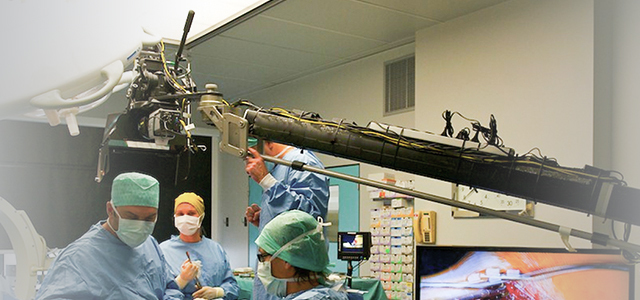 New milestone! This domestic surgical robot company brings future healthcare into reality
Long distance patients, exhausted doctors, crowded and noisy hospitals, and seemingly impossible sources of information
The above may be the norm in China's healthcare system, which has been ongoing for many years. In order to change this situation, the country continues to deepen medical reform and improve medical services; Nowadays, with the support of robotics technology and 5G, this situation is expected to accelerate and improve.
Recently, top experts in the field of minimally invasive orthopedics in China gathered at Gerui Technology to remotely control the world's first "Newton" orthopedic endoscopic surgery robot through commercial 5G communication technology, successfully completing multiple remote orthopedic minimally invasive scientific research surgeries and breaking through multiple new surgical methods.
Newton combines intelligent guidance, master-slave control, and remote operation functions of robots to achieve safe and refined operation throughout the entire surgical process. It belongs to the new generation of intelligent composite spinal surgery robots.
The success of this series of scientific research surgeries indicates that in the future, orthopedic patients can enjoy minimally invasive surgical services from top doctors at their doorstep, without having to bear very high treatment costs.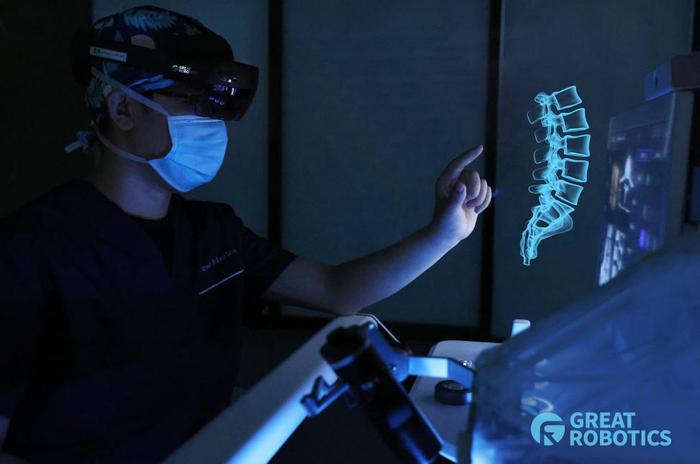 Gerui Technology is turning remote robotic orthopedic minimally invasive surgery into a reality
  So, what is the difference between this 5G remote orthopedic minimally invasive research surgery and the past? How will the "Newton" intelligent composite orthopedic surgical robot change the current orthopedic diagnosis and treatment mode? How can Gerui Technology solve clinical diagnosis and treatment problems through original research and innovation?
  A pioneering work jointly completed by nearly 10 Chinese orthopedic experts
After 2020, the application of remote 5G technology in medical clinical practice in China has become increasingly mature.
In the past, there have been many attempts at 5G remote surgery in the field of orthopedics; However, due to the limitations of surgical robots and remote control technology, most can only complete remote consultations, surgical planning, navigation and positioning, and cannot yet achieve remote direct control of surgical robots to truly complete the key steps of orthopedic surgery.
The "Newton" robot of GeRui Technology has achieved a milestone breakthrough, truly achieving the historical achievement of remote 5G control of surgical robots to complete the entire process of minimally invasive orthopedic remote surgery step by step.
The "full process" refers to the comprehensive assistance of all core surgical steps in order to achieve surgical goals.
The remote full process surgery of Newton mainly includes:
Remote image acquisition and processing, remote surgical planning, and remote automatic guidance;
For the first time in the world, doctors directly and remotely control robots to complete all core steps of orthopedic surgery. The expert controls the main end, and the slave end robotic arm hundreds of kilometers away accurately replicates a series of operations such as navigation positioning, puncture expansion, nucleus pulposus clamping, and radiofrequency electrocoagulation, achieving the expected surgical goals;
At the same time, real-time communication with on-site staff in the operating room was achieved through the GeRui Mate-5G system, completely breaking space limitations.
It is worth mentioning that in order to ensure the smooth progress of this master-slave remote operation, Gerui Technology has developed and built a complete set of 5G surgical solutions based on commercial 5G technology,
Including 5G duplex high fidelity real-time audio and video broadcasting system M-VRT, 5G multi-party real-time meeting system M-Meeting, 5G remote control security system M-Safety, etc., and completed high load pressure testing of the Mate-5G solution at the testing site in advance, ensuring the stability and optimization of the network state during the operation.
At this point, Gerui Technology has established a new paradigm for minimally invasive diagnosis and treatment of orthopedic diseases in the future, and this field will also open a new chapter in history.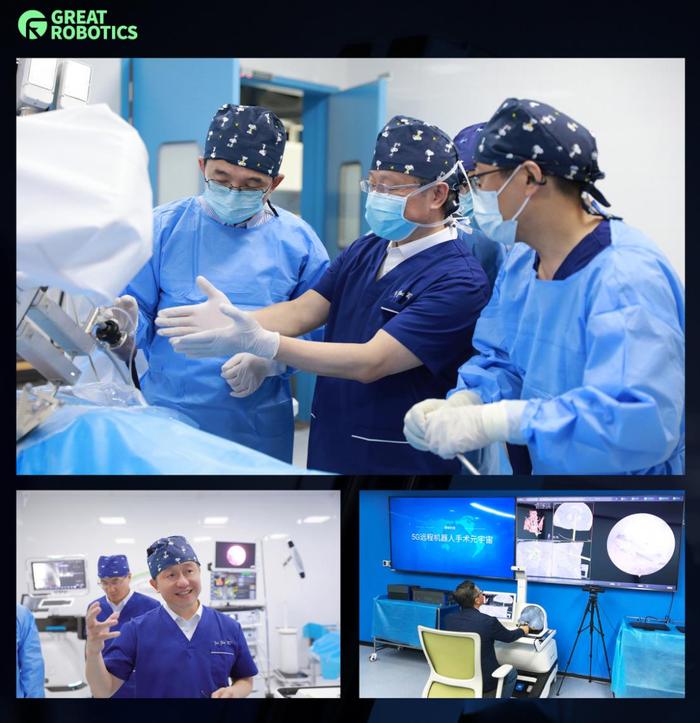 Professor Zhou Yue, Xinqiao Hospital of the Third Military Medical University, led the world's first 5G remote scientific surgery, and completed the world's first robot psoas major muscle approach lumbar discectomy
Professor Zhou Yue greatly praised the innovation of "Newton" and stated that these innovations will drive the development of intelligent surgical robot technology in China. He hopes that the future of the Gerui "Newton" intelligent composite orthopedic surgical robot will smoothly enter human clinical practice and gradually expand into more technological innovation and clinical application scenarios.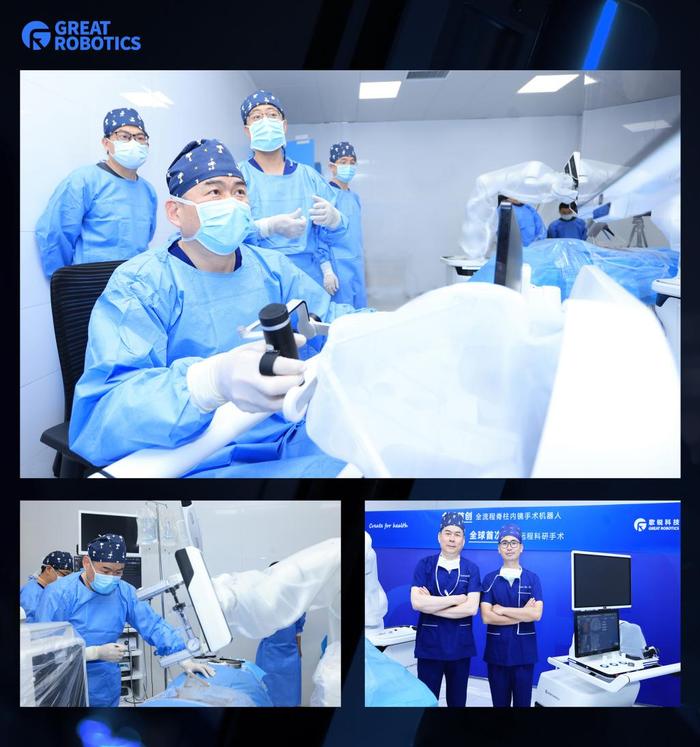 Professor Shen Hongxing from Renji Hospital affiliated to Shanghai Jiao Tong University School of Medicine: The world's first robot vertebroplasty with master-slave control and automatic guidance
Professor Shen Hongxing said that the biggest beneficiaries of the development of technology should be patients. The "Newton" robot reduces patient side injuries with more precise positioning and more quantitative progressive operations, which is of great significance. At the same time, it is also stated that minimally invasive surgery and surgical robots complement each other, and it is hoped that "Newton" will continue to strengthen the integration of medicine and industry, deepen learning, and continuously optimize, bringing greater benefits to the people.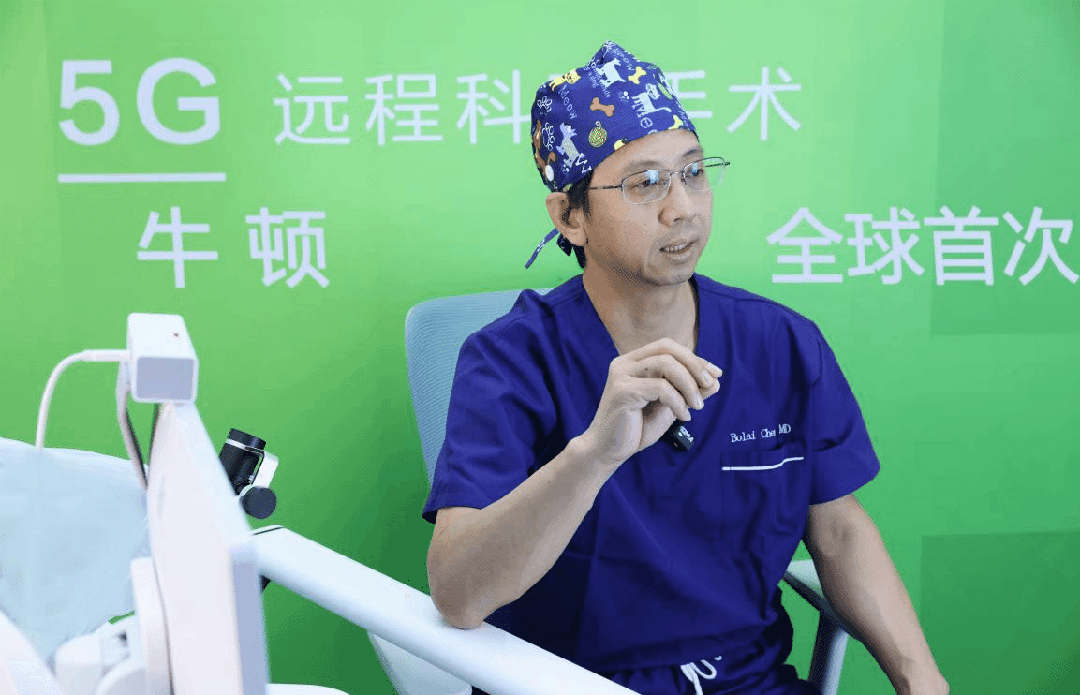 Professor Chen Bolai from Guangdong Provincial Hospital of Traditional Chinese Medicine: The world's first remote 5G master-slave control+automatic guidance orthopedic minimally invasive robot intervertebral foramen approach for right L3/4 lumbar discectomy between Beijing and Shandong
Professor Chen Bolai commented that the "Newton" system deeply integrates digital technology, real-time navigation images assist doctors in puncture catheterization, and determines the angle and depth of front-end instrument placement, which is more accurate than traditional manual operations. In addition, the 5G signal is very stable during the surgery process, with almost no delay felt, and the operation is continuous and smooth.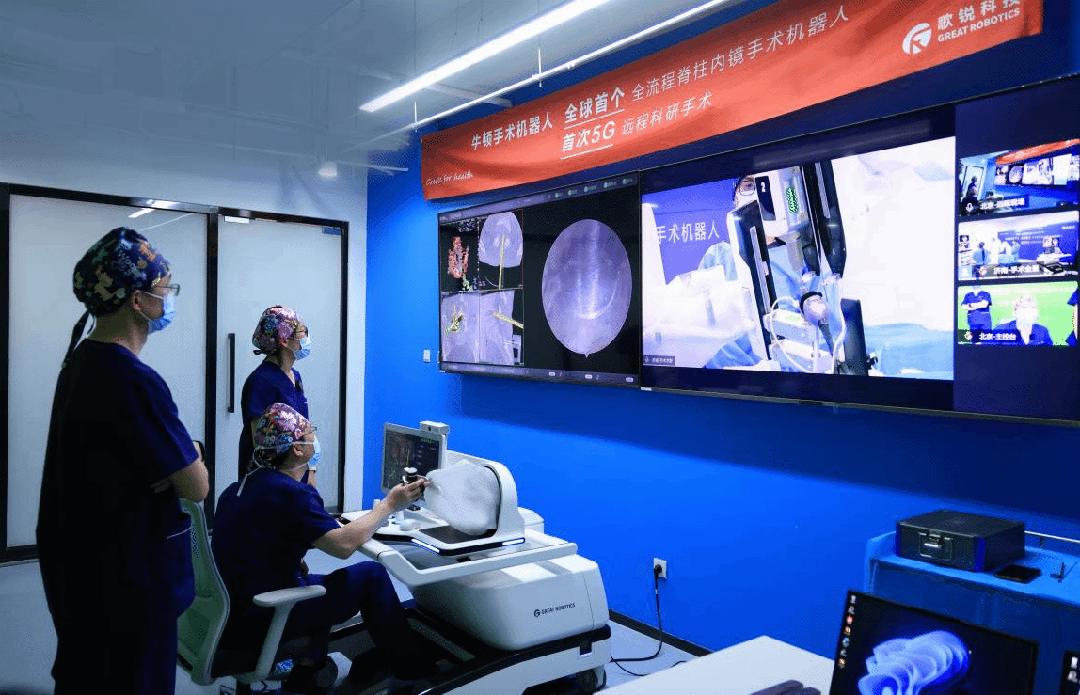 Professor Jiang Yi from the Haidian Hospital of Peking University Third Hospital: The world's first remote 5G master-slave control+automatic guidance minimally invasive robot lumbar discectomy through the posterior approach of L4/5 intervertebral disc between Beijing and Shandong
Professor Jiang Yi was pleasantly surprised by Newton's force feedback function. "For many robot systems, the development of force feedback function is still a challenge, especially for remote force feedback, which requires very powerful computing power. In the surgery just now, force feedback for key structures was triggered multiple times, which is a great progress
Moreover, in March of this year, the "Newton" orthopedic surgical robot had already completed the "full process assisted" scientific research surgery of the most difficult and minimally invasive spine surgery known as "dance on the tip" in the orthopedic field, which is also the world's first.
The spine is the central nervous system and the second lifeline of the human body. A slight carelessness may cause paralysis of the patient.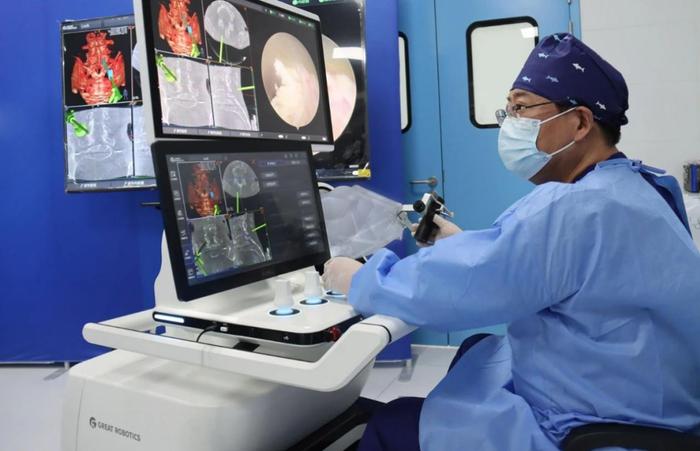 Professor Xin Tao's team from Qianfoshan Hospital of Shandong First Medical University: percutaneous endoscopic lumbar discectomy via posterior approach L4/L5
Professor Xin Tao believes that "Newton" has preliminarily realized the vision of industry experts, moving spinal surgery robots from navigation and positioning to full process assistance, greatly promoting the development of minimally invasive spinal surgery. At the same time, the cooperation between high-precision intraoperative imaging systems and robots has also achieved better joint effects.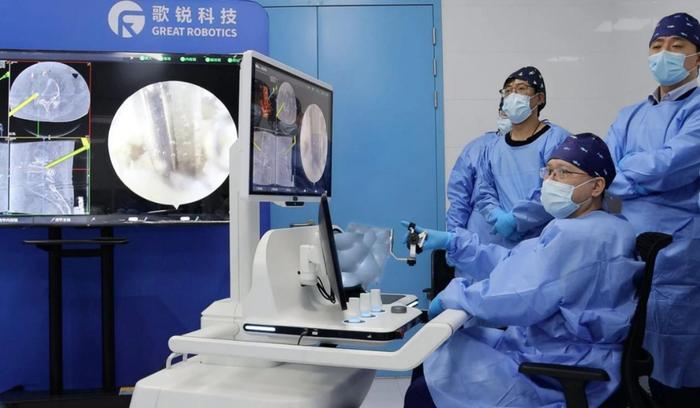 Professor Liu Xinyu's team from Qilu Hospital of Shandong University, percutaneous endoscopic lumbar discectomy through intervertebral foramen L4/L5
Professor Liu Xinyu stated that there are currently many nail positioning navigation robots on the market, and "Newton" is the first orthopedic master-slave full process auxiliary robot, highly reproducing the clinical operation process of spinal endoscopic surgery, which can reduce doctors' fatigue and ensure the quality of surgery.
In addition, he also pointed out that the 12 second image scanning and 3D reconstruction cycle of the Ge Rui intraoperative mobile imaging system, with an image accuracy of 0.16mm, fully meets the needs of precise spinal surgery. The design of eccentric projection also provides convenience for clinical work such as channel puncture.
As Professor Chen Bolai said, the country vigorously promotes the homogenization and standardization of disease diagnosis and treatment, but there are huge differences in diagnosis and treatment levels among regions. How to sink high-quality medical resources and improve the level of grassroots diagnosis and treatment services urgently needs to be solved.
The remote operation of surgical robots can connect top experts in the tertiary level and grassroots patients, making medical treatment no longer difficult. Therefore, the significant breakthrough in the development of "Newton" by Gerry is of great significance for optimizing the allocation of medical resources and promoting minimally invasive surgery with high cost-effectiveness and low additional damage.
 Transforming the Future Diagnosis and Treatment Model of Orthopedics with "Original Research Innovation"
With the support of national policies and the latest technological breakthroughs, some Chinese innovative medical enterprises are gradually catching up with global cutting-edge technologies and have achieved leadership surpassing in many fields.
For example, in addition to the advantages of traditional minimally invasive orthopaedic surgery, such as reducing trauma, bleeding, complications, operation time and recovery cycle, the "Newton" intelligent composite orthopaedic endoscopic surgery robot, which is the world's first intelligent composite model of "master-slave control+intelligent guidance technology+remote operation", is expected to make a major change in the minimally invasive orthopaedic surgery paradigm.
And Gerui Medical is not satisfied with this. Being a simple surgical robot is not the ultimate goal, and its vision is to build a future intelligent diagnosis and treatment platform and solutions.
Future Surgical Robots: A Leap from "Navigation and Positioning" to "Master Slave Control+Intelligent Guidance" and "Remote Control" Intelligent Composite Technology
From the perspective of technological path, surgical robots can be roughly divided into two categories: navigation positioning type and master-slave control type. The difference between the two can be likened to "GPS navigation" and "control drone".
At present, master-slave control technology only exists in the fields of endoscopic robots (such as Leonardo da Vinci) and pan vascular intervention robots;
Commercialized orthopedic surgical robots are all "navigation based". After the navigation module plans the direction for doctors, all surgical steps are manually completed by doctors, and most of them are still used for local assistance in open surgery.
And intelligent composite technology has enabled minimally invasive orthopedic surgery to achieve robot assisted full process for the first time.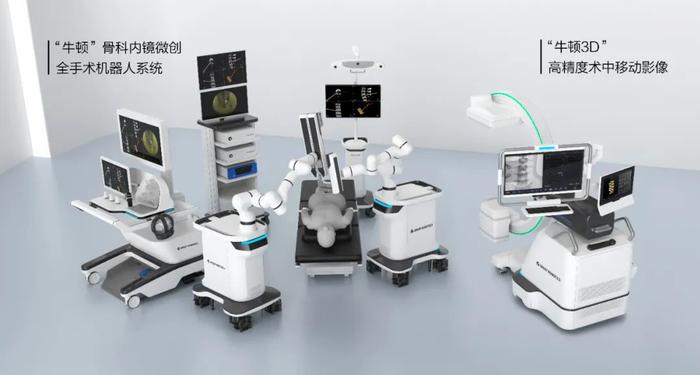 Step 1: Before the surgery, the "Newton 3D" intraoperative mobile image captures the patient's three-dimensional scanning data in all directions, and performs automatic post-processing and registration registration registration.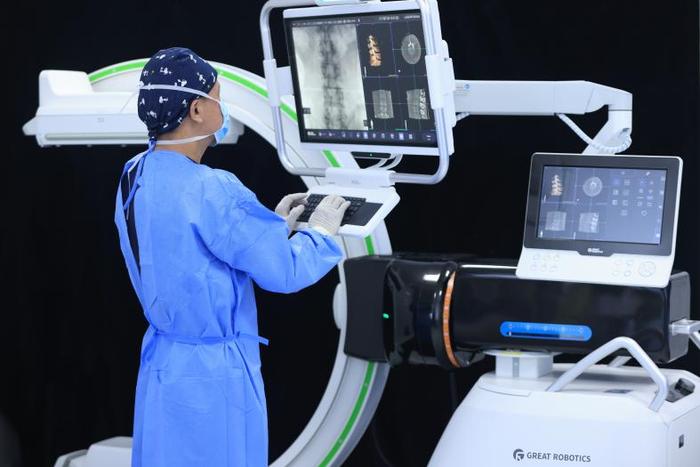 Step 2: Based on high-precision images and data, the "Newton" surgical robot combines patient data for further intelligent analysis and processing, and cooperates with doctor design to carry out intelligent surgical planning and "customized" precise surgical plans.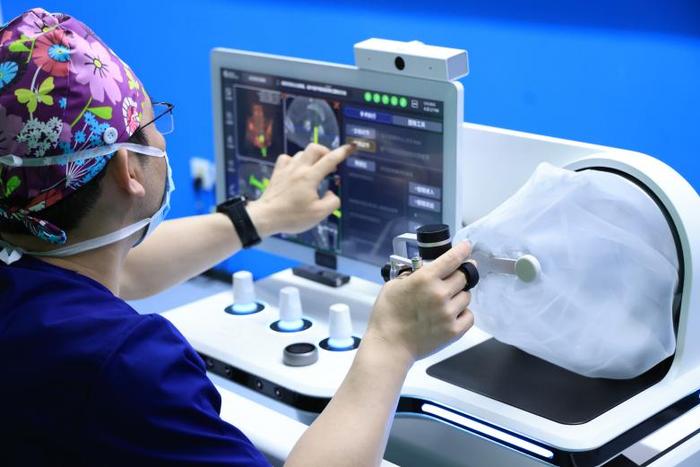 Step 3: "Newton" automatically guides the robot to move to the predetermined surgical position and direction according to the intelligent surgical planning scheme.
Step 4: Doctors quickly install modular surgical tools on the arm of the slave robot to prepare for surgery.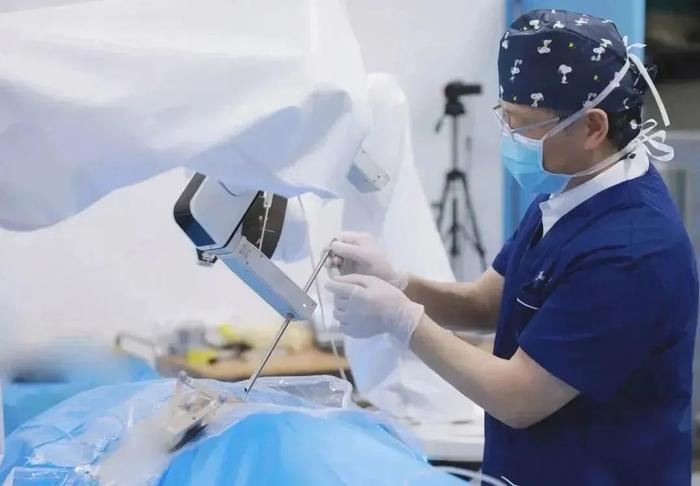 Step 5: The doctor sits in front of the main console to operate the handle, and the slave robotic arm next to the operating table accurately replicates the doctor's operation to complete the key steps of the surgery, including establishing a precise surgical channel, removing lesions, and electrocoagulation hemostasis. Finally, the entire surgical process is completed.
During surgery, robots can reduce the actions of doctors to a fraction, control the depth and angle errors of surgical instruments within a submillimeter range that cannot be achieved by human hands, and also provide timely warnings to doctors of dangerous areas.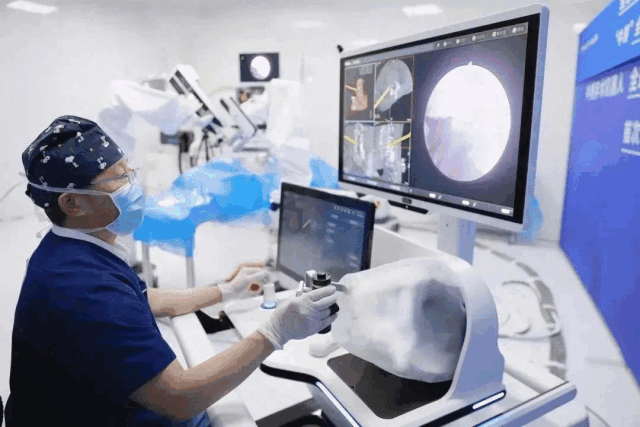 Most importantly, the operating handle of the main console has a "force feedback function"; When the tools on the robotic arm touch tissues such as the patient's bones or fibrous rings, they will provide real-time feedback to the doctor, so that the doctor can distinguish the tissues and adjust the movements in a timely manner to avoid accidentally injuring the patient.
It should be emphasized that technologies such as "master-slave control+intelligent guidance", "remote control", and "force feedback function" all come from Gerui's independent research and innovation.
In the field of domestic high-end medical devices, original research and innovation are particularly difficult, and therefore even more difficult.
Future intelligent diagnosis and treatment integrated solution: "composite surgical robot+precise intraoperative mobile imaging+proprietary consumables module+remote surgical metaverse"
The rapid application of technological innovation in the medical field is gratifying. We see that the combination of cutting-edge technologies such as 5G communication, robotics, and AI big models with healthcare has created one medical miracle after another.
These medical miracles lie ahead of the strong expectations of clinical patients, and behind them lies the original innovation based on the integration of medicine and industry, hoping for a faster arrival of a better future medical era.

This article is reprinted from Sina News
Surgerycast
Shanghai Headquarter
Address: Room 201, 2121 Hongmei South Road, Minhang District, Shanghai
Tel: 400-888-5088
Email: surgerycast@qtct.com.cn
Beijing Office
Address: room 709, No.8, Qihang international phase III, No.16, Chenguang East Road, Fangshan District, Beijing
Tel: 13331082638( Liu )
Guangzhou Office
Address: No. 15, Longrui street, longguicheng, Taihe Town, Baiyun District, Guangzhou
Tel: 13302302667 ( Ding )