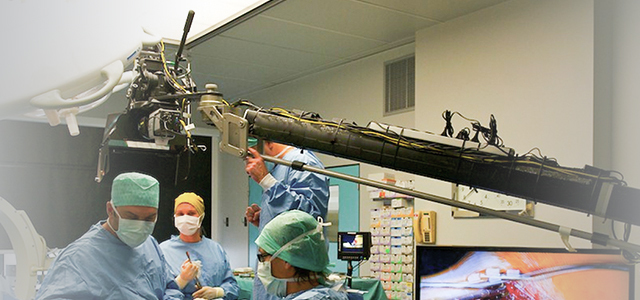 Successful implementation of transcatheter closure surgery for patent ductus arteriosus at Fukang Hospital in Tibet
On August 30th, the cardiovascular department team of Fukang Hospital in Tibet successfully performed interventional closure surgery on a patient with patent ductus arteriosus complicated with severe pulmonary hypertension. This surgery is the first case of the cardiovascular department of Fukang Hospital in Tibet. The independent implementation of this surgery marks a new level in the interventional diagnosis and treatment of congenital heart disease in the cardiovascular department of Fukang Hospital in Tibet.
The patient is a young woman who developed symptoms such as palpitations, chest tightness, and shortness of breath after giving birth 2 months ago. On August 23rd, it was diagnosed by color Doppler ultrasound as congenital heart disease with patent ductus arteriosus and severe pulmonary hypertension, and was immediately hospitalized for further treatment.
On August 30th, after sufficient preoperative preparation, the patient underwent a right heart catheterization examination and patent ductus arteriosus closure surgery in the interventional catheter room. Under the leadership of Director Zhu Yongbiao, a cardiologist at Fukang Hospital in Tibet, the cardiology team collaborated with each other to perform puncture, imaging, track establishment, and occluder release operations in one go, and the surgery was successfully completed. After the surgery, the auscultation murmur completely disappeared, and no residual shunt was detected by ultrasound.
Patent ductus arteriosus (PDA) is a common congenital heart disease. The PDA was originally a normal blood flow channel between the fetal pulmonary artery and aorta, and was necessary for a special circulatory system during the embryonic period. After birth, the lungs dilate and assume gas exchange function, with pulmonary and systemic circulation performing their respective functions. Soon after, the arterial catheter closed on its own due to disuse. If the ductus arteriosus remains unclosed and forms patent ductus arteriosus, surgical treatment should be performed as early as possible to prevent the occurrence of pulmonary hypertension and life-threatening heart failure.
This article is reprinted from "Dingxiangyuan"
Surgerycast
Shanghai Headquarter
Address: Room 201, 2121 Hongmei South Road, Minhang District, Shanghai
Tel: 400-888-5088
Email: surgerycast@qtct.com.cn
Beijing Office
Address: room 709, No.8, Qihang international phase III, No.16, Chenguang East Road, Fangshan District, Beijing
Tel: 13331082638( Liu )
Guangzhou Office
Address: No. 15, Longrui street, longguicheng, Taihe Town, Baiyun District, Guangzhou
Tel: 13302302667 ( Ding )